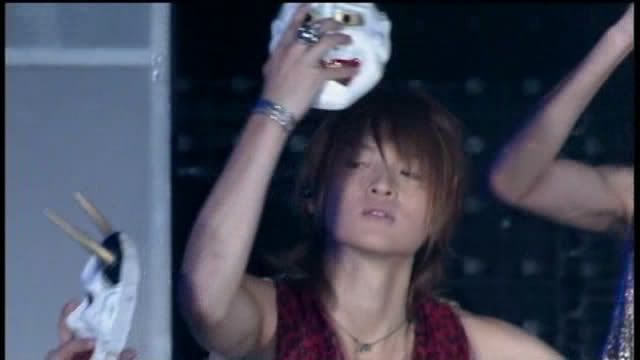 That is a good enough reason to watch KAT-TUN's Break the Records in a better quality. Drool-worthy, that is.
This is my first time watching KAT-TUN's concert so don't blame me for staring at Yuu when they were introducing Kame. They should put Yuu back dancing for Taguchi or Koki so that I don't have to watch them!
But Koki is one sweet brother. I would be thrilled to have a big brother who would wish me a happy birthday in front of thousands of fans. He even said, "This is my real brother, Tanaka Juri. Please support him." Taguchi was there and was like, "How could you have a little brother like this?" Yes, I wonder that, too, Taguchi. Taguchi then asked Juri, "How old are you now?", Juri said, "I4.", Taguchi, "14? You are still 14?" And I might change my opinion about Koki being a sweet brother when he said, "Oh, so you are 10 years younger than me?" Koki, it had been 14 years since he's around and you just realized that?
The best part should be when Taguchi said, "Don't grow up to be like your brother." which Juri answered with "Okay." Koki hesitated for a moment before saying, "Yeah, don't be like me." Yes, DON'T, Juri! You are very cute! >/////<
Seriously, don't put that kind of thing on him! And PIERROT is full of nonsense! What does the song supposed to mean!? Thank GOD the English in YamaPi's MOLA make senses.
I'm searching for the old performances of MINT now. That was a group consisted of Ma-chan (Matsumoto Kouhei; Inoo's ex-boyfriend, one of the Pre-Pre-Pretty Combi, used to have angelic voice and super-cute face with big eyes and small in height xD), Inoo (yes, HSJ's Inoo), Nika-chan (Kisumai's Nikaido) and Yuu (MY Tamamori Yuta). The group name was made from their acronym. The group didn't last long because
Johnny hates 4-members group
Ma-chan got into Kis-My-Ft. I would like to see some Ma-chan, and the sight of Tamamori holding a microphone during his early days as a junior should be amusing. xD
By the way, 1582 is Kame's solo song. I don't know how it is pronounced but I don't it's One Five Eight Two. Perhaps Ichi Go Hachi Ni. Maybe that makes more sense. Kame's solo seemed like a stage play for me; I ended up enjoying his movements rather than his singing. But I don't get why must he make himself
that
wet, though.